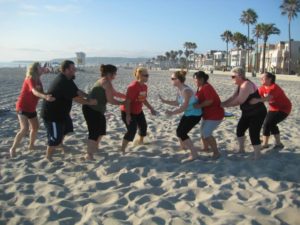 In our hectic, modern lives, many of us focus so heavily on work and family commitments that we never seem to have time for pure fun. When we carve out some leisure time, we're more likely to mindlessly "zone out" in front of the TV or computer than engage in fun, rejuvenating play like we did as children.Play is beneficial for people of all ages. Play can add joy to life, relieve stress, supercharge learning, and connect you to others and the world around you.  Greater benefits are gained when playing involves more than one other person, away from the sensory-overload of electronic gadgets.

Game play can trigger the release of endorphins, the body's natural feel-good brain chemicals. Endorphins promote an overall sense of well-being and can even temporarily relieve pain. Playing fun activities that challenge the brain can help prevent memory problems and improve brain function. The social interaction of playing with family and friends can help ward off stress and depression.

Longevity

Recently research has been linking play with longevity. Taking the time to replenish yourself through play is one of the best things you can do. Playing games:
keeps you functional when under stress
refreshes your mind and body
encourages teamwork
increases energy and prevents burnout
triggers creativity and innovation
helps you see problems in new ways
Participating in Mission Thin Possible encourages you to play regularly every week at least once and is usually looked forward to by team members. It's possible that you are self-conscious and concerned about how you'll look and sound to others when you attempt to play games if you have not regularly participated in physical games. Fearing rejection, embarrassment or ridicule when attempting to participate is an understandable fear especially if we are overweight. We design our games to encourage participation for all with more emphasis on fun than serious competition.
Sharing laughter and fun fosters empathy, compassion, and trust.  Our games can help you loosen up in stressful times, break the ice with strangers, make new friends, and form new lasting relationships.
Keep you feeling young and energetic. In the words of George Bernard Shaw, "We don't stop playing because we grow old; we grow old because we stop playing." Playing boosts your vitality and even improves your resistance to disease, helping you feel confident and your best.
Play is not just essential for kids; it is an important source of relaxation and stimulation for adults. Playing is a fun way to fuel your imagination, creativity, problem-solving abilities, and emotional well-being. Adult play is a time to forget about work and commitments. By participating in non-competitive game playing you can play with the joyful abandon of your childhood, and reap oodles of health benefits throughout life.
Games that are multi dimensional provide most stimulation. They can stimulate your imagination, helping you to maintain your adaption and problem solving skills.
Homework
Start thinking today and everyday how you can add "playtime" to your to-do list.
See you at your next Team Game.